Open 5 days a week and select evenings.
Online appointments available — book today!
We are a Health Canada-designated yellow fever centre.
Mobile units: We come to you!
Appointment bookings are required 4 to 6 weeks before you travel.
Nightingale GLOBAL VAX Travel Clinic in Cobourg: Ready-Made Travel Kits to Keep You Safe
We know it's hard to pack light when you are travelling, but you should always make room for safety essentials for your trip. Let Nightingale GLOBAL VAX Travel Clinic in Cobourg help you decide what is necessary to pack for your travels. Whether it's mosquito nets to drape over your hotel bed or ready-made travel packs for your tropical adventures, come to Nightingale GLOBAL VAX Travel Clinic for quality travel health products and knowledgeable consultation.
Our Health and Safety Travel Products
We carry a variety of health and safety literature, as well as high-quality, brand-name products such as Pristine and Natrapel, to name a few. The current stock at our clinic includes:
Insect repellents
Medical kits
Mosquito nets
Travel containers
Travel water bottle and replacement filters from Pristine
Water purification supplies
Written materials and brochures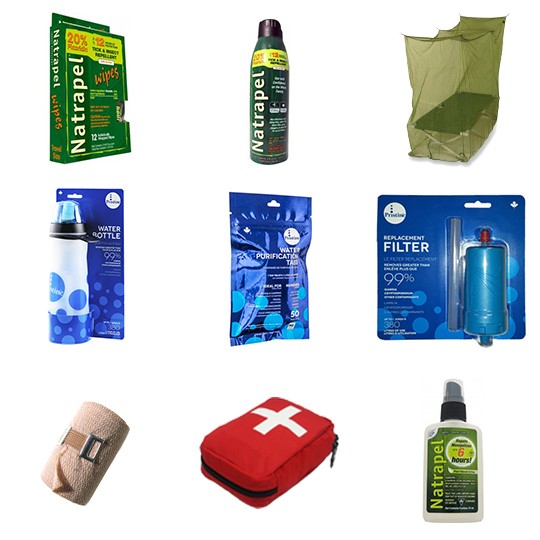 In addition to offering a wide variety of travel health and safety products, the Nightingale GLOBAL VAX Travel Clinic team provides seasoned travel advice to help you lighten your suitcase and your travel worries. Book an appointment with us to receive personalized advice about your specific travel plans.
Need More Help?
If you have questions about the right products to bring for your trip, contact Nightingale GLOBAL VAX Travel Clinic in Cobourg. We'd love to help you.

If you have a specific date in mind and would like to see our clinic's availability, please go to our online booking system to book your appointment.